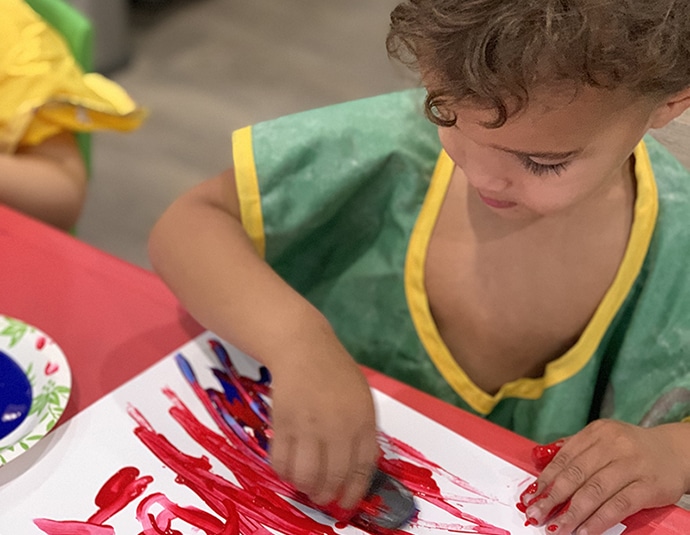 Our warm and nurturing toddler program fosters the development of age-appropriate skills in the pillars of independence, language development, self-expression, socialization, and sensory exploration. The formative years for a child's life are critical.
1:4 is our ideal student to teacher ratio for toddler development
Morning
8:45am – 9:30am: Dropoff outside and outdoor play
9:30am – 10:00am: Snacks and diaper or washroom routine
10:00am – 11:00am: Circle time, Art, Science, specialty programs including Hebrew, sports, Music, Drama and library — all activities designed to foster cognitive development and social skills that are essential in every child's formative years. 
11:00am – 11:30am: Free play that fosters social skills
11:30am – 12:00pm: Lunch and diaper or washroom routine
12:00pm – 12:30pm: Outdoor play in a supportive environment
12:30pm: Pickup
Full Day
12:15pm – 2:15pm: Nap time / quiet activities
2:15pm – 2:45pm: Snack and diaper or washroom routine
2:45pm – 3:30pm: Afternoon activities which can include: story time, painting with ice and taking part in a nature hunt. This is followed by outdoor play.
3:30pm: Pick up
** Snack includes nutritious items such as fresh fruit and vegetables, multi-grain products and healthy proteins. All snacks and lunch options are overseen by a registered dietician and follow the new Ontario Health Guide. Menus are sent out to parents monthly.
** Sample daily schedules are subject to change